It is everyone's choice, from employees to university students, those who complain about lack of time and do not have time to cook or even go out to eat. Takeout adoption is increasing day by day and becoming more popular, which naturally allows restaurants to increase their turnover with takeaway services.
In the first half of 2022, takeout continued to dominate orders in limited-service restaurants with a whopping 58% share, versus dine-in at 27% and delivery at 15%, according to Technomic's Delivery & Takeout Consumer Trend Report. In full-service restaurants, dine-in accounted for 68% of orders, takeout 19%, and delivery 13%.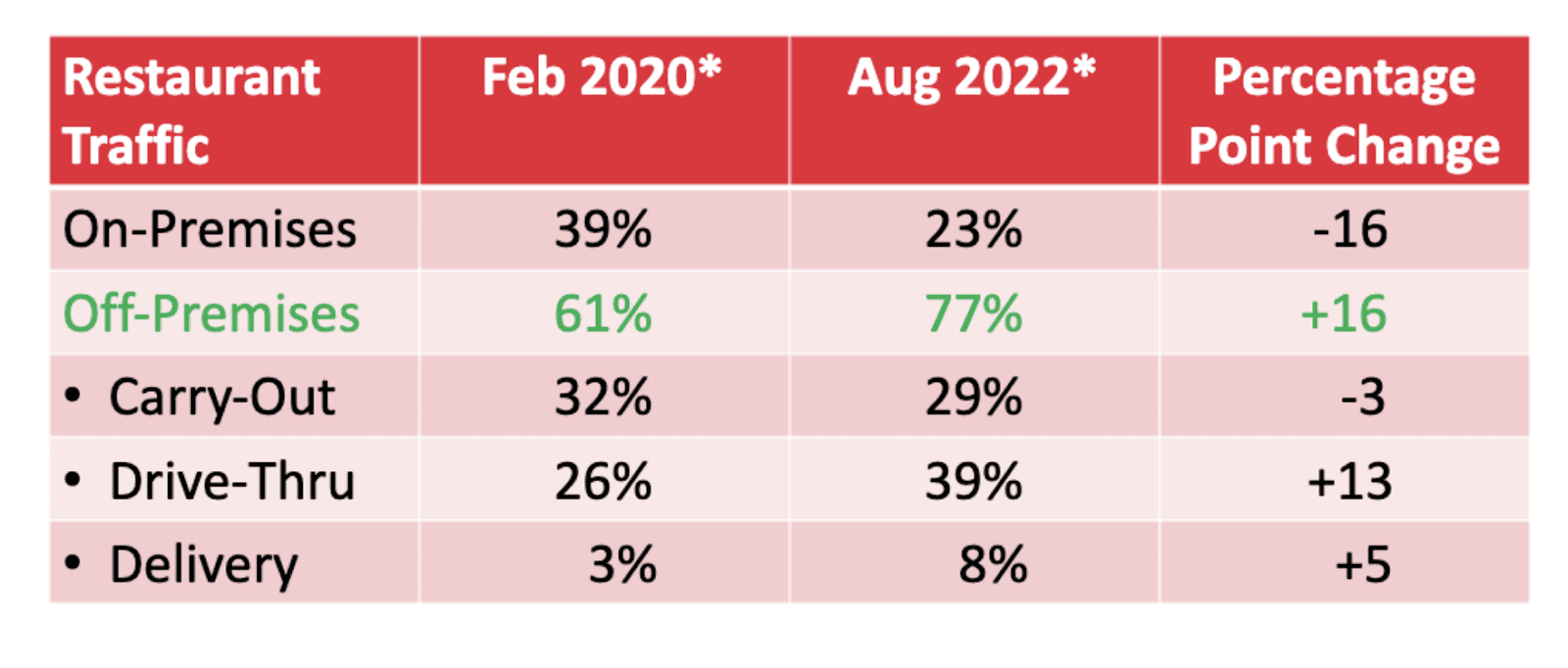 Another report reveals that takeout orders for a very significant 77% of all orders compared to 2020 (61%). Expectedly, the pandemic effect was strong in the shift in statistics, but the rising demand for takeout has become a reality. In this blog, we'll dive deeper into the rise of takeout and how restaurants can adopt takeout delivery effortlessly.
Why Your Restaurant Should Offer Takeouts ASAP
There's no doubt that the new consumer profile is shifting towards a preference for takeaway, online and mobile ordering channels, and a preference for online or contactless payments. Additionally, this audience values impeccable service. This shift is relatively new, as we are seeing a wider range of customers adopting these preferences, even those who previously may not have used credit cards or preferred dining restaurants. It's worth noting that there has been an increase in the use of credit cards and contactless payments made via smartphone, as well as a shift towards online ordering for those who previously placed orders by phone. Overall, it seems that the trend toward takeaway and digital ordering options is on the rise.
The features that develop and change with technology, with the effect of the pandemic period, have revealed the necessity to update themselves and increase their contactless services, such as takeout for restaurants.
Tips to Offer a Seamless Takeout Experience for Your Customers
After the pandemic, restaurants saw a huge increase in demand for takeaway service, leading them to invest heavily in technologies like QR ordering, contactless payment systems, and new ordering software. However, with the emergence of end-to-end solutions, restaurants can make a smart investment in the future by professionally installing these systems with the help of restaurant management tools. These tools ensure that the systems are set up correctly, saving restaurants the need to invest as much in technology.
For example, a restaurant with an average of 100 takeouts per day needs to receive orders early in order to deliver these orders quickly. And this is where technology comes into play. While restaurants are increasingly embracing technology as an essential part of their business, the industry still has growth potential. Restaurants must continue to invest in new technologies to stay current, even ahead of industry trends, to meet the ever-changing preferences of guests. In this way, they can get away from their worries and focus only on what they do best: making delicious meals.
QR Ordering
QR ordering is a system that allows restaurants to receive orders from customers using a QR code. Customers can scan the code using their phone, tablet, or computer to view the menu, choose their items, and pay contactless. This system helps restaurants by providing a convenient option for customers to place orders from home and also by reducing the high commissions charged by popular ordering apps. When a customer places an order through QR ordering, it is instantly sent to the restaurant's computer, and the order process begins.
FineDine offers QR ordering technology as part of its end-to-end solution for restaurant operations. With FineDine, restaurants can manage all aspects of their business on a single platform, from ordering and menus to delivery tracking and third-party integrations. The convenience of having all these features in one place helps restaurants streamline their operations and improve efficiency.
Setting Up a Delivery Operation
Restaurants can, of course, get logistical support from third-party services for their deliveries. This option includes outsourcing deliveries to drivers from third-party services. While this is a popular choice to help you promote your restaurant to new audiences, these services often charge a 30% commission, leaving you with very low profit margins, and you even have to risk not making a profit on some meals. Also, your restaurant loses control of the delivery experience.
Third-party distribution platforms are certainly not a permanent solution. Establishing a system where delivery, payment, and order sections run smoothly in the background by using the developing technology is a permanent solution. Successful restaurants can only develop and grow if they follow technology. By using technological systems, you can easily control customer experiences and ensure growth.
Using Data to the Bits
Online ordering also makes a significant contribution to the restaurant's easier and more effective management of its orders. It is much easier to calculate the cash flow of the restaurant with the online ordering system. Besides the ease of management, online ordering helps restaurants collect and retain their customers' data much more easily.
It is relatively difficult to collect data from customers who come to the restaurant to order food. However information from customers, locations, diets, and much more can be easily gathered through online ordering. Following the data, the improvements and developments to be made by the restaurant can significantly contribute to the commercial success of the business. The data you obtain with the online ordering system allows you to revise your menu accordingly, which of your dishes is more delicious and which is less preferred.
All Your Restaurant Operations in the Same Place: Meet FineDine
FineDine offers takeout, pick-up, and drive-through options to meet the needs of all your customers. Your guests can order and pay online inside and outside the restaurant. The best part is you do not pay any commission. You can increase your restaurant income with the online ordering system without paying any commission with FineDine.
With FineDine online ordering system, you can share your menu link on all online platforms, and your customers can access your menu by clicking this link and placing an order whenever they want. You can also help increase your sales by offering your customers products of interest and other options to choose from with FineDine's artificial intelligence-based smart suggestions. For example, you can impress your customers with a dessert to accompany a cappuccino or the wine recommendation that best suits Ravioli di Zucca.